Welcome to the Fire Pond Pottery Calendar Page! Here is
a list of our upcoming shows and classes.
November 2017
December 2017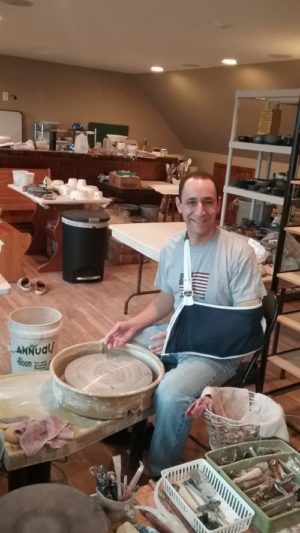 We will not have a show at our home in December this year. Our house is in the middle of renovations, and unfortunately, so is Larry's elbow after he fell off a ladder and broke it. If you'd like to see what we have available after the Yuletide Fair, just give us a call to set up a time to visit our home studio.
We will have limited inventory, but this is your chance to get some very rare, collaborative pieces by Jessica and Larry (which means Jessica had to finish Larry's pots after his injury).
Jessica and Larry Lubowsky
(603) 347-2024
Interested in learning how to throw on the wheel?
Join us for one of our
Learn to Throw workshops at Exeter Fine Crafts!
Our next class will be in the spring of 2018.
Please call Exeter Fine Crafts to sign up.
Our workshops are usually on a Saturday and generally run from 10:00 - 2:00. They are geared towards students who have never thrown on the wheel, or haven't touched clay in years. Ages sixteen to adult.
If you have a group of four to seven adults and would like to schedule a private class, please contact Exeter Fine Crafts at (603)778-8282.